Remote work has become noticeably more popular the past few years, and now, it's more prevalent than ever. The global pandemic has caused companies as prominent as Facebook, Twitter, and Slack to make what may have once been a radical announcement: all employees can work from home forever.
Why Bother with Virtual Team-Building Activities?
Remote employees have different challenges than employees who go into a physical workspace and interact with their coworkers face-to-face. It can be much more difficult to build strong relationships with teammates, and relationships are critical for increasing engagement, productivity, and retention.
Because of the challenges involved in forming and maintaining relationships remotely, many employees who work from home can become lonely. Whether your team is completely remote, partially dispersed, or anywhere in between, finding a way to connect online is critical to keep loneliness at bay and encourage relationship building.
The rest of this blog will cover some ideas for virtual team-building events and activities that you can do with your team anytime.
Ideas for Remote Team Building
1. Team Birthday Parties
It tends to mean a lot to people when their birthdays get celebrated, even as adults. Try to get a crew together, and schedule a time when everyone can hop into a virtual event together to say happy birthday.
To go the extra mile, send the birthday-person a gift in the mail beforehand. Include a card or note that tells them not to open the gift until you all get together, and then have them open it on camera.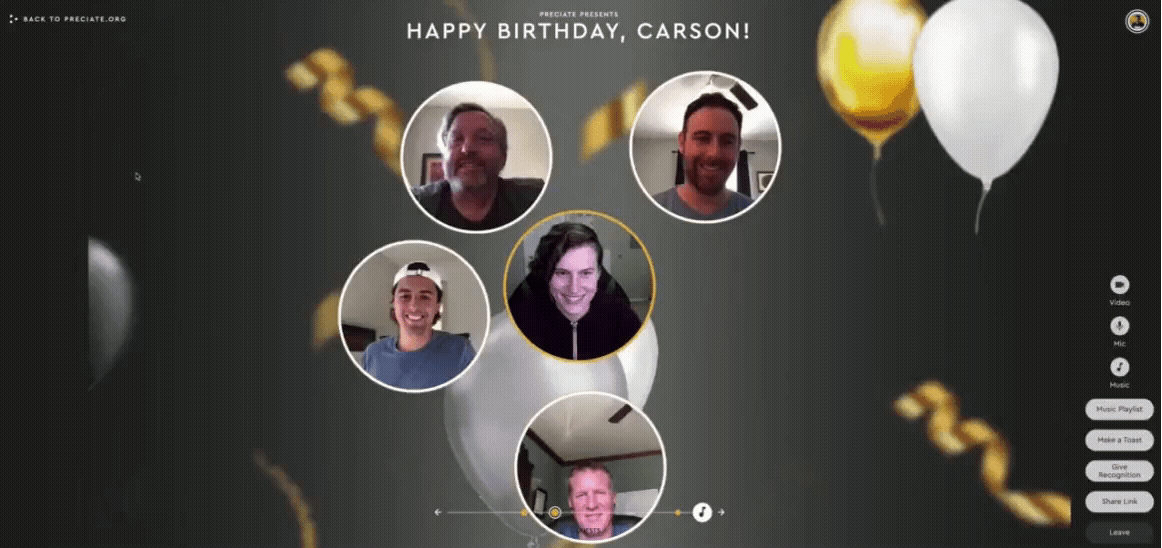 2. Virtual Show and Tell
Again, this one is fun even as adults. You can choose to do a themed version such as company pets or employee childhood photos to get more people involved. Take turns presenting and giving a little rundown of the star item. Giving time for questions after each presenter allows for people to get to know each other even better.
For the optimal virtual show and tell experience, Preciate provides a virtual space where each person can become the predominant speaker while the rest of the group can watch and converse.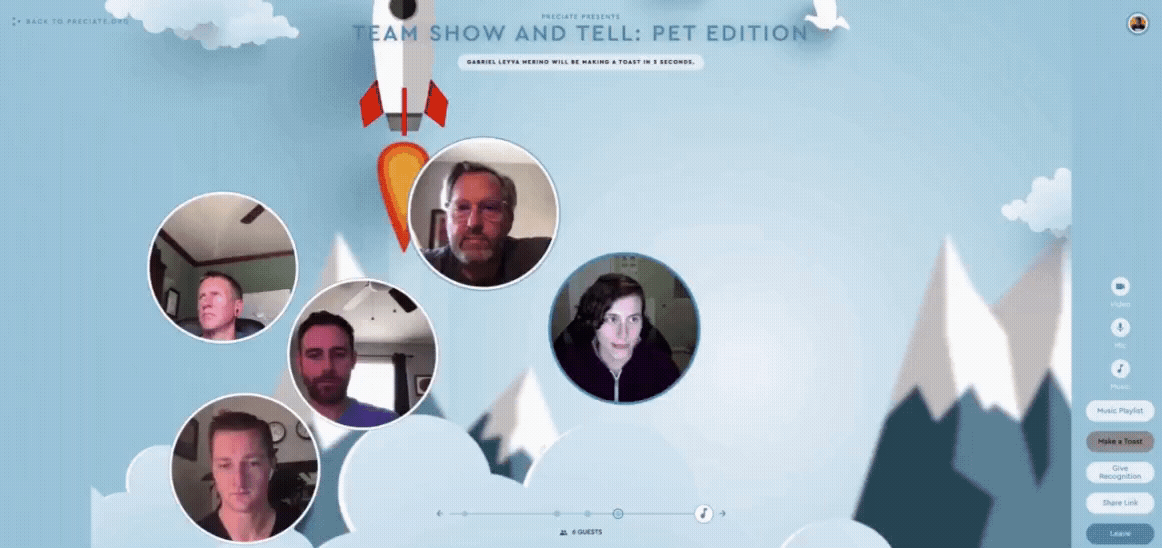 3. Pizza Party
Everybody likes pizza! If you've ever been to a school gathering, summer camp, sleepover, etc., you'll know the association between fun and those cardboard boxes of pizza showing up at just the right time.
To bring those same feelings to a remote team, consider coordinating pizza deliveries to each of your team members' houses during a virtual get-together. Everyone can eat the pizza in front of their computers and chat. Be sure to consider any dietary restrictions and be willing to make changes such as no meat or cheese.
4. Fourth of July Kickback
This can apply to the Fourth of July or any other holiday, really. Get the group together the day before a long weekend and talk about upcoming plans. It's a good way to get to know each other while taking some time to decompress as a team.
Depending on the time of day, you can also open up this time for drinking beers and/or cocktails. Although it can feel strange to drink in front of the computer, it can help to bring some of those lighthearted, fun feelings back to a remote social event.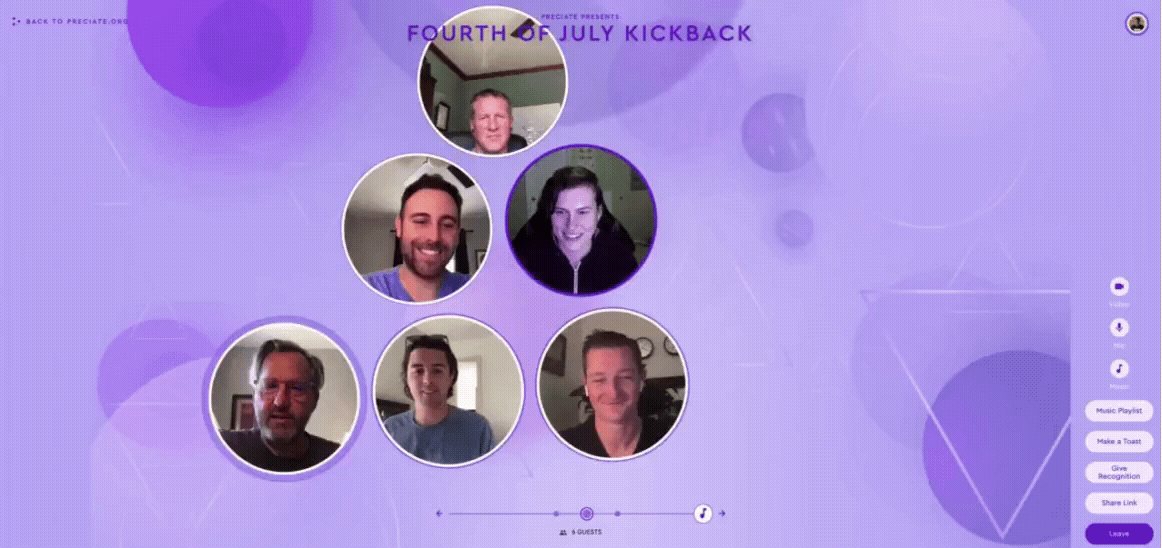 5. Ugly Sweater Competition
Bringing holiday traditions to a remote event is a great way to get the group excited to participate. Ugly sweater parties are a mainstay in American culture, so why not do a virtual version with your people this year?
Have everyone wear their ugliest sweater and line up in a virtual event space like Preciate. Then, have the designated judge go down the line and view each sweater. Give some time for deliberation, and pick the annual winner! If you want, you can mail the winner a reward such as a gift card to their favorite coffee place.
6. Recognition Exchange
We know that up to 82% of employees don't feel sufficiently recognized for their work and contributions to the company. And yet recognition has been shown time and time again to be a major factor in the overall motivation and engagement of employees across the globe, whether they are remote employees or work in an office.
Some companies continue to use more old fashioned methods of exchanging recognition in the workplace such as writing emails or having monthly meetings where certain employees are recognized for their effort. However, as the world continues to change, more and more companies are turning to digital employee recognition solutions to help them exchange and track recognition well into the future.
Preciate Recognition is one of those employee recognition solutions. In addition to exchanging recognition with Preciate, you can use Preciate to connect with your people from anywhere in a virtual event space that feels like the real thing.
Hop in a virtual room with your team and proceed to exchange recognition using our interactive recognition creator – without ever leaving the room. Preciate is the ultimate tool to boost employee engagement with the power of technology that brings teams together regardless of physical distance.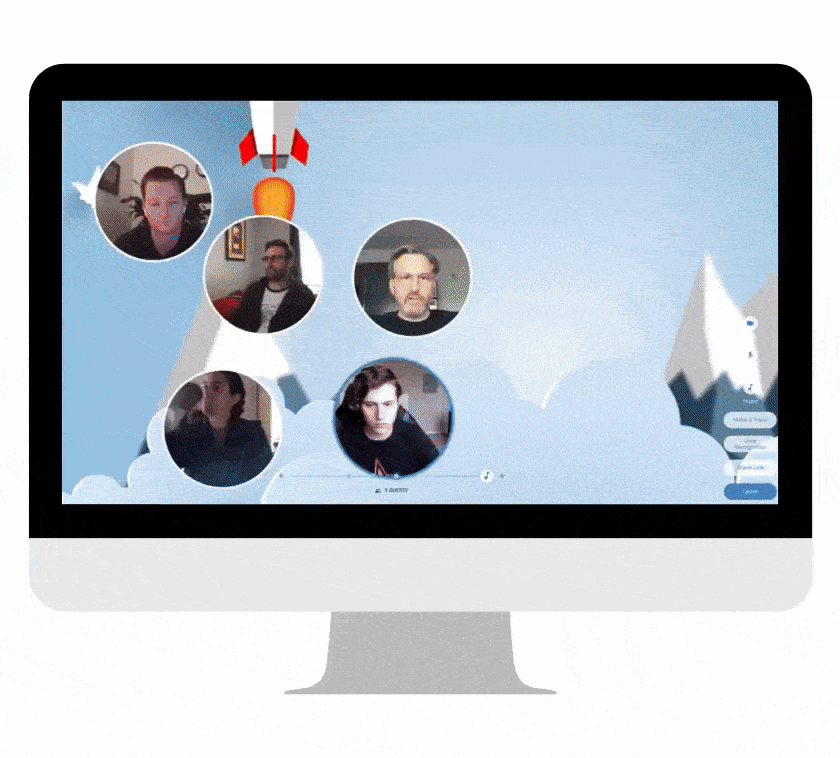 7. Icebreaker Questions
Sometimes, it can be tough to get the social juices flowing during a virtual event. You can't use the typical body language and other social cues that are present during an in-person event, and there is no bathroom or punch bowl to escape to in moments of awkwardness.
In these cases, it can be helpful to come prepared with some icebreaker questions for the group. This is especially useful when it's a group of people who don't know each other as well. Examples of icebreaker questions include:
What sports did you play growing up?
What are your favorite hobbies?
What was the last concert you saw?
If you could travel anywhere, where would it be?
Where is your favorite place you have lived?
What is the most handy item you bought recently?
8. Virtual "Speed Dating"
Think of speed dating but without a romantic element, and you get a great way to learn more about your teammates quickly. Have someone set a short timer and go around having conversations with each of the virtual event attendees.
At the end, quiz each person on several of the people they talked to to see what they remember from their time together. It's always interesting to see what people remember about you from your conversation with them!
9. Costume Party
Costume parties are a fantastic way to see who will go all out with an idea. Because virtual event tools cut off at the upper body, remote costume parties create a fun challenge for participants. Wear crazy hats, or find a creative way to get your costume in frame during the judging!
Using Preciate, a group can line up in the space and have the designated judge move up and down the line to pick a winner.
10. Happy Hour
Happy Hour is one of those team-building events that nearly every team does, and remote teams are no exception. While companies that have had large groups of remote of employees for some time now are likely to be used to it, the recent shift to remote work due to the global pandemic has been a challenge for many.
Using tools like Zoom are not the same as socializing together, and the experience turns out awkward because the platform is ultimately build for meetings, not hanging out. That's why we built Preciate. Using Preciate, you can connect with your team for your weekly happy hour in a space that feels like the real thing. Navigate around the room, have different conversations, make a toast, and listen to the same music together.
11. DIY Craft Competition
Crafting is fun, but it can get a bit boring to do on your own. Bring crafting to the team by planning a virtual DIY competition. If the craft you choose is complicated, go ahead and send instructions and materials out to your teammates beforehand. Otherwise, forward the instructions digitally and have your team gather the materials from around the house.
Then, hop on a virtual socialization platform like Preciate Social. Make sure everyone starts at the same time, and set a timer. When the timer goes off, have the designated judge pick the winner of the DIY craft competition.
12. Dance Party
Music brings people together, and its presence can greatly improve the mood during a social event online. Preciate was built with this fundamental truth in mind, making it easy to listen to music together while socializing virtually.
The music is located on the right side of the room, so navigate further right with a group of people and have a little dance party where the music is loudest. Feel free to get creative with expressing yourself through a video stream!
Conclusion
With so many teams now allowing their employees to work remotely all or some of the time, there is an increased need for virtual team-building. There are many options for types of events you can do with your team online such as costume parties, happy hours, and pizza parties.
For the high-quality socialization solution your team has been looking for, check out Preciate. It's free for anyone to sign up and try, so go ahead and create your first Preciate room today to get started.